Fiila FM supports Widows and Single Mother's at its 10th Mothers Day Celebration
Over 50 mothers received various forms of support during the 2019 mother's day celebration, organized by Fiila FM.
The women who consist of both single mothers, widows and needy mothers were drawn from Tamale and its surrounding communities.
The Tamale based radio station, Fiila FM, every year celebrate mothers for their unflinching support and love for their children.
In her submission the Manageress of Fiila Fm, Mrs. Akosua Kwartemaa Boakye indicated that this year as part of events to commemorate its 10th anniversary of celebrating mother's, Fiila FM on Saturday 11,May 2019, visited mothers who happen to find themselves in prison to celebrate with them.
This according to her was to remind them of the love society has for them devoid of where they find themselves.
Mrs. Boakye further indicated that, the role of mothers in society cannot be over emphasized hence the need to celebrate them always as a way of showing our love for them.
In her presentation the Chairperson who also doubles as the first lady for the Northern Region, Hajia Halima Salifu Saeed urged women to keep up the good work and endeavor to be the best in playing their role as mothers.
She further admonished them to bring up this children well enough, knowing they are the future leader of our dear country.
The beneficiary mothers went home with Cash prizes to help start a business, burners, hampers, Cloths among several others.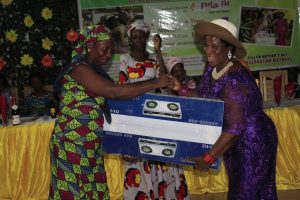 In an interview with Madam Azuma Sapaak, she express gratitude to the organizers for coming to the rescue of herself and her Five children, after the demise of her husband several years ago.
Many others expressed themselves in tears for the wonderful things Fiila FM is doing in celebrating them as mothers.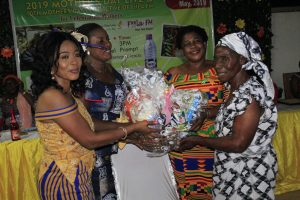 Source:Fiilafmonline/Shawana Yussif