Education on mental health now necessity
Akosua Boakye
August 26, 2019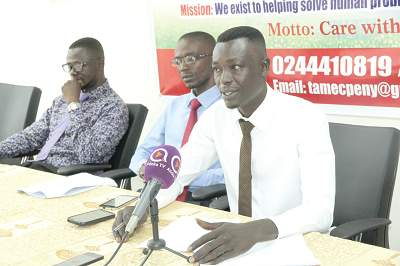 A non-governmental organisation (NGO), Think About Mentally Challenged Person Near You (TAMeC PeNY), has announced that it will commence a nationwide sensitisation campaign in September this year to enlighten Ghanaians on mental disorders and associated dangers.
The campaign dubbed, 'Heal the Mind, Heal the Body Project' will begin in senior high schools and some prisons.
It will be conducted in association with the Mental Health Authority and the focus will be on educating the public on behavioural symptoms relating to mental illness.
Also as part of the campaign, the public will be enlightened to stay away from drugs that have the tendency to trigger mental disorders in an individual.
The Managing Director of TAMeC PeNY, Mr Evans Boateng, disclosed these at a media launch of the campaign in Accra last Monday (August 19).
Relevance
Mr Boateng said it had become necessary to strengthen education on mental disorders and also correct misconceptions that the youth, particularly those in senior high schools, have about narcotics.
Additionally, he said it was paramount that people in prisons were educated on key mental health issues in order for them to become well informed and to know how to deal with stress and anxiety associated with their incarceration.
"This campaign will be a mind-healing exercise which will impact positively on students and prison inmates," he said.
Support
For his part, the Executive Secretary of the NGO, Mr Thomas Frimpong, was worried about the lack of attention given to mental health care in the country, particularly at the district levels.
He, therefore, called on stakeholders to support the Mental Health Authority in promoting proper mental health care in the country.
The Chief Executive of the NGO, Mr Evans Appiah Kubi, urged all stakeholders in the mental health sector to support the organisation in its drive to educate the public on mental health disorders.
Source: Graphic.com.gh