Coronavirus: New restrictions in Catalonia as Europe battles second wave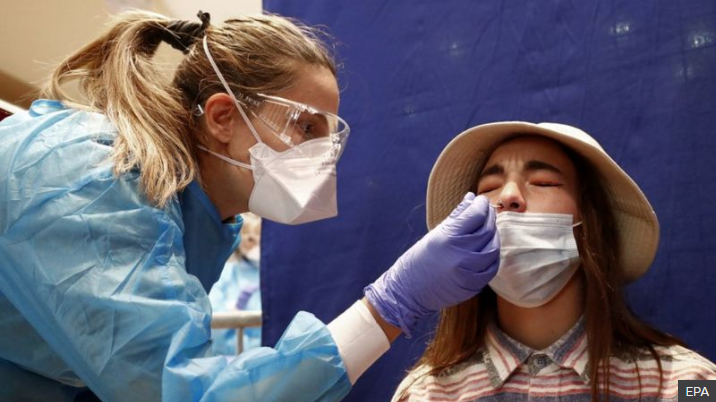 Spain's north-eastern region of Catalonia has said bars and restaurants are to close for 15 days from Thursday as the country tries to slow the spread of coronavirus.
Across Europe, governments are introducing new restrictions to battle a second wave of infections.
The Czech Republic has shut schools and bars, Dutch cafes and restaurants are closing, and France may impose curfews.
In the Netherlands a partial lockdown comes into force at 22:00 (20:00 GMT).
Also on Wednesday, French President Emmanuel Macron is set to detail new measures for Paris and other cities.
Across Europe, infection rates are rising, with Russia reporting a record 14,321 daily cases on Wednesday and a further 239 deaths.
But even in countries that have had greater success than most in keeping transmission down, infections are rising.
Germany has seen more than 5,000 new infections for the first time since April and 47 areas with an average rate of over 50 people per 100,000 residents.
Germany's RKI public health agency officials speak of seeing an "accelerated rise in transmission in the population".
What's happening in Spain?
Spain currently has one of Europe's highest infection rates, with nearly 900,000 infections and more than 33,000 deaths.
The wealthy region of Catalonia had appeared to have a second rise in infections in the summer under control when it ordered people to stay home in Barcelona and other cities.
But on Wednesday Catalonia's interim leader Pere Aragones said "action is needed to avoid a full lockdown in the coming weeks".
Restaurants in the region of about 7.5 million people will only be allowed to serve takeaway and Mr Aragones urged people to stay at home.
Gyms and cultural events will be allowed to operate at 50% capacity, while shops and large shopping centres must be limited to 30% capacity.
Mr Aragones said the measures will need to be approved by a court.
Residents of the country's capital, Madrid, are already unable to leave the city, and bars and restaurants have a 23:00 curfew.
Will France impose a curfew?
Until President Macron confirms what the new measures will be on national TV at 19:55 local time (17:55 GMT) on Wednesday, all we know for sure from the government is that "nothing has been ruled out". But like all European leaders he is doing everything to avoid a return to a national lockdown.
There are widespread reports that curfews were discussed at a Tuesday night cabinet meeting, but it is not known what they would involve. Paris and Lille were under consideration as cities most likely to face an evening curfew, news channel BFM reported.
This kind of measure would involve prohibiting movement overnight except for a limited number of people, and would be enforced by greater numbers of police on the streets. It would also hit restaurants very hard, when bars and gyms are already shut in several cities placed under maximum alert.
French Guiana has been under curfew but the hours have been gradually shortened.
Source:Fiilafmonline/BBC