CLOGSAG calls off strike against political interference
The Civil and Local Government Staff Association of Ghana (CLOGSAG) has called off its planned two-day demonstration against the government over what it describes as political interference in its work.
This is because government has set up a joint committee to look into the grievances expressed by the members and leadership of the association.
When Graphic Online visited the head office of CLOGSAG Tuesday, May 28, 2019, it saw many of the members of the association wearing red armbands.
The association also held a closed-door meeting, details of which have not been disclosed.
Notices posted by CLOGSAG on trees and buildings at the Ministries in Accra read, among others as: "The Civil Service and Local Government Service are not private companies owned by ministers or political appointees. Mr Minister, if you cannot abide by the rules of the services, leave now. We are fed up with your impunity and disregard for procedures."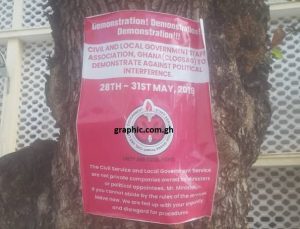 The CLOGSAG Chairman for the Accra Metropolitan area, Mr Julius Azuma, who confirmed the government's decision to form a joint committee to look into the alleged political interference in the work of CLOGSAG, said "government has taken our demands seriously to deal with the issue for us.
Once he has agreed to form a committee to look into the issue for us, there is no need to demonstrate."
The association holds the view that many people occupying administrative positions as civil servants have been relieved of their post and replaced with either politicians or people close to politicians.
Source: Fiilafmonline/Graphic