Chereponi: Renewed clashes claim one life as health workers flee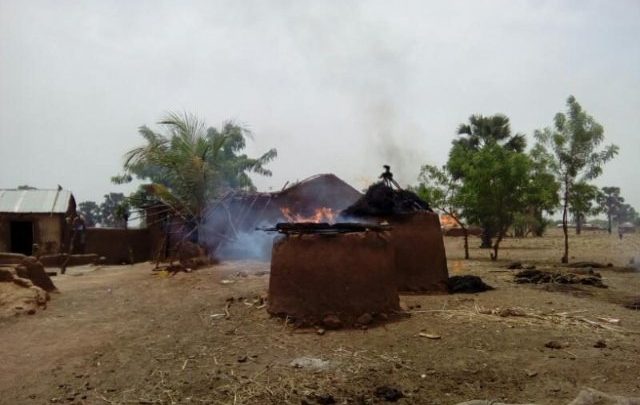 Police have confirmed the death of one person following renewed clashes between Chokosis and Konkombas in the North East region.
Three other persons sustained various degrees of injury after sporadic shootings in the Saboba in the Chereponi district, the hub of the clashes.
The region's Police PRO Yusif Tanko said, some 13 persons have been arrested in the clashes that intensified this week.
He said police have managed to bring the situation under control and patrols have been intensified in the district.
The clashes intensified just days after President Akufo-Addo's visit to the area where he admonished chiefs and people of Chereponi to bring to an end to the incidents of conflict and violence that have plagued the town.
President Akufo-Addo said "the Ghana that we are trying to build does not have space for conflict and violence. The seizure of lands by Konkombas and Anufors, we should try and stop those things. People have been farming for years, they know who farms on what land. We should try and bring those kinds of incidents to a conclusion. I am appealing through you for peace. Let peace remain here."
President Akufo-Addo was in the district last week
He stressed that "there are lots of opportunities in Ghana now, but these opportunities will not be there if we continue all these unnecessary conflicts."
Joy News has learnt of health workers fleeing the area after many communities were burnt in the four-day clash.
One of the workers told Joy News, he could not stay in the town because of the sporadic gunshots.
He told correspondent Martina Bugri, he does not feel safe in the area and "although I have seen the presence of some security people, I think moving out of town would be better for me than to stick around."
Another said the situation was getting out of hand and he was leaving to Tamale. "The place is unsafe and we can't do any meaningful work."
Meanwhile, North East Regional Minister, Salifu Saeed, whose region the North East region was recently curved from, has appealed to the Interior Ministry to fast track work on the recommendations of the five-member committee that was tasked to investigate the Chereponi conflict, for implementation.
He said there is a need for the recommendations to be implemented to serve as a deterrent to others who may want to create trouble in the area.
Source: Myjoyonline.com