Business Dev't Minister Supports Ya Na, Other Paramount Chiefs Ahead of Damba Festival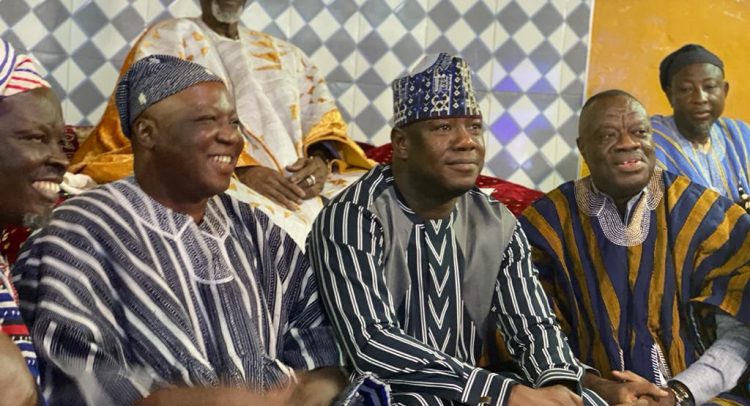 The Minister of Business Development, Dr Ibrahim Mohammed, has supported the King of Dagbon , Ndan Ya Na Abukari II and the three paramount chiefs in Dagbon with some assorted food items , a bull and a cash amount of Ghc 10,000 ahead of the Damba festival celebration.
The three paramount chiefs are Mion-Lana Abdulai Mahamudu, Yoo Naa Yakubu Andani Abdulai and Karaga Naa , Abdulai Nantomah.
At the Ya Na's palace in yendi , the minister said the donation was meant to support the overlord to prepare towards the Damba festival and also preach to youth with the aim that the Damba festival will bring peace and unity among the people of Dagbon.
According to him, Dagbon needs development and for that matter it was only through peace that Dagbon can be developed.
He urged the King to continue to bring the people of Dagbon together, adding that Dagbon has lost important developmental projects due to the chieftaincy issues in the area in the past.
Dr. Awal called on the youth to desist from allowing themselves to be used for violent activities by politicians.
He said President Akufo-Addo has solved Dagbon's problem and what the good people of Dagbon need to do to honour the president is to maintain the peace.
The King of Dagbon, Ndan Ya Na thanked the Business Development Minister for his kind support to the Gbewa palace towards the preparations of the Damba festival.
Source:Fiilafmonline/DailyGuide