Amidu's threat an attempt to curtail Ato Forsons' freedom of speech – Lawyers
Lawyers of Cassiel Ato Forson, the Minority Spokesperson on Finance believe the threat by the Special Prosecutor, Martin Amidu to sue the legislator is a calculated attempt to curtail their client's freedom of speech.
Mr. Amidu is unhappy with Ato Forson over some comments he made with regards to a judgement debt case in which he cited the Special Prosecutor.
Amidu had given Ato Forson a seven-day ultimatum to retract and apologize for the said comments. The Special Prosecutor had insisted that the comments were defamatory.
"Should I not hear from you within the next seven days, I will be compelled to advise myself as to the proper action to take to vindicate my hard-won reputation which you have intentionally, maliciously and gravely injured and brought into disrepute," he said in a letter to Mr. Ato Forson.
But lawyers of Ato Forson, who is also the Member of Parliament for the Ajumako-Enyan-Esiam, say their client won't apologize since the comments were not defamatory or made out of malice.
The lawyers in a response letter to Amidu and sighted by citinewsroom.com stated that:  "Your threat to sue him [Ato Forson] for making the statement as part of his role as a Ranking Member on [the] Finance [Committee] smacks of an attempt to curtail his freedom of speech in Parliament." The response letter signed by Godwin Kudzo Tameklo, Counsel for Ato Forson, also stated that:
"…We wish to serve notice that our client is not only a Member of Parliament but he is the Ranking Member on [the] Finance [Committee] and that he made the aforementioned statement to the Parliamentary Press Corp as part of his role in scrutinizing government finances."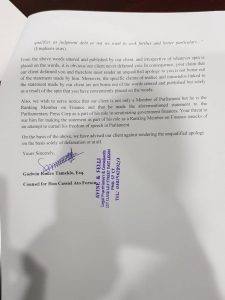 Source: citinewsroom.com