Akufo-Addo opens valve for Karpower gas; urges Ghanaians to conserve energy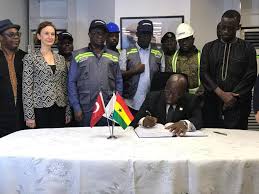 President Akufo-Addo has called on Ghanaians to conserve energy despite the continuous supply of power in the country.
The president indicated that the government has made huge investments in the energy sector and has recently procured 12 million energy-efficient bulbs for free distribution, but Ghanaians must make an effort to ensure that energy is not wasted.
The president made the remarks at a ceremony at Sekondi in the Western Region to symbolically turn on the valve for the first gas supply to the 470 megawatts Karpowership.
President Akufo-Addo said the gas supply to the Karpowership marks a significant feat in Ghana's energy sector and could help the country save up to US$1 billion in the next 10 years.
The Karpowership which arrived at the Sekondi Naval Base from Tema on August 16th and started running on natural gas from Atuabo on 20th November, is expected to save the country about US$200 million annually.
Source:Fiilafmonline/CitiNews