Ghana is model of democracy, economic growth — Italian Premier
Akosua Boakye
November 29, 2019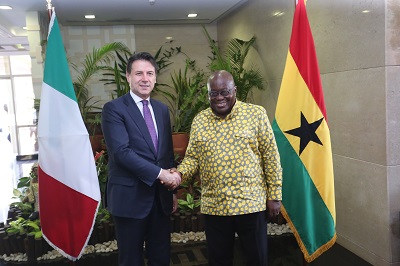 The Italian Prime Minister, Mr Giuseppe Conte, has said that Ghana and Italy are linked by the common values of respect for democratic principles, sustainable and positive economic development and free trade.
He said it was no wonder that "most experts and leaders consider your country a model of democracy and economic growth" and described Ghana's recent economic development as "wonderful and fantastic".
Mr Conte said this when he paid a courtesy call on President Nana Addo Dankwa Akufo-Addo at the Jubilee House in Accra yesterday.
After bilateral discussions, the two leaders appended their signatures to a memorandum of understanding (MoU) on defence.
Project
The Italian Premier is in Ghana to attend the inauguration of the Okuafo Pa Project in Dormaa Ahenkro in the Bono Region.
The project, which was developed by ENI Energy Ghana, an Italian oil company operating in the country, in cooperation with the government of Ghana, aims at supporting the industrialisation agenda of Ghana, among other objectives.
As a first step, the project will construct a campus for up to 800 students, including classrooms, workshops, accommodation for lecturers and administrative staff and related storages spaces and utilities.
The educational programme will focus on rural development in agricultural activities, including poultry, with support from local and European universities.
G20
Mr Conte commended President Akufo-Addo for his excellent speech delivered at the G20 Compact with Africa in Germany.
"I completely agree with you that African countries need to enhance their local businesses and shift their economic model from resource-based sectors to more productive industrial or service-based sectors," he said.
He said the Okuafo Pa Project was a unique way of doing business and noted the importance of a new model of cooperation between Europe and Africa.
He said under the project, entrepreneurs would combine know-how with strong attention for socio-economic development for local communities and gave an assurance that Italy and the European Union would stand by Ghana in these crucial times.
Relations
President Akufo-Addo traced the long-standing relations between the two countries, which were marked by good relations with Italian companies and people who had been part of Ghana in a very positive manner.
"At the very beginning of our independence, one of the most important infrastructural projects in Ghana, the Akosombo Dam, had heavy Italian influence. So we value the relationship with Italy," he said, adding that Ghana was looking for opportunities to expand the relationship.
ENI
The President said the initiative by ENI in Dormaa was positive and expressed the hope that it would develop several parts of the country, especially in the areas of agriculture, health care and education.
Security
He said Ghana was committed to enhancing its security cooperation with Italy and expressed the hope that the MoU could lead to significant assistance to Ghana because West Africa was facing all kinds of security challenges.
He explained the activities of jihadists in Mali, Niger and northern Nigeria and said the big battle was not just to contain them but to move them out and ensure that their activities did not spread further south.
The President said the people wanted to live in a West Africa where terrorists using violent extremism had been defeated completely from the region, saying it was for that reason that Ghana was interested in the cooperation between it and Italy.
Dormaa
Touching on the project, President Akufo-Addo said it would be of great benefit to Ghana because the policy of his administration was to develop the productive capacities of young people, so that they would not engage in perilous migration but channel their energies into building the country.
He said correct policies, attitudes and leadership would make that possible and that was the objective of his government.
The President said that was why the government was keen on supporting the initiative in Dormaa and its replication in other parts of the country.
Source: Graphic.com.gh