6 Member ROPAA committee holds consultative meeting in Tamale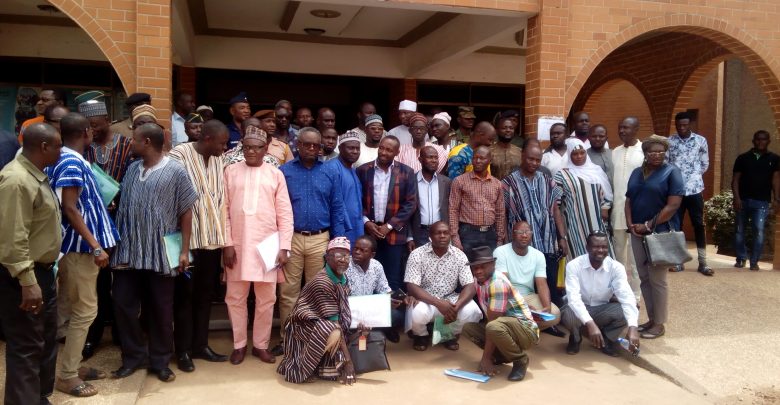 In facilitating and preparing towards the implementation of the Representation of People's Amendment Act (ROPAA), the ROPAA Implementation Committee today Friday held a consultative meeting with stakeholders in the Northern Regional capital Tamale.
The nine member  consultative and implementation committee was set up by the Electoral Commission (EC) to seek the opinion of key stakeholders through engagement on the best approach and also to recommend to the committee how the Act should be implemented.
The meeting was attended by representatives of the governing New Patriotic Party (NPP), the main opposition National Democratic Congress (NDC) and some representatives of the other minority political parties.
Representatives of the Security Services, Civil Society Organizations, Religious Leaders, People with Disability (PWD), Media Practitioners and some members of the general public also took part in the discussions.
The ROPAA law, 2006 (Act 699), seeks to allow qualified Ghanaians residing abroad and who for over ten years have not been given the opportunity by the EC to vote, to be empowered to cast their vote in various elections in the country.
Addressing participants, Chairman of the committee and a Deputy Commissioner at the Electoral Commission, Bossman Asare, said there is the need for the general public to trust the effectiveness of the Committee so as to help them create guidelines for the smooth implementation of ROPAA.
He noted that there is the need not to disenfranchise any Ghanaian during National Elections, therefore  the need for the committee to solicit for ideas to help in the smooth implementation of ROPAA.
Bossman Asare stated that apart from the regional consultative meetings, the Committee would pay working visits to countries already practicing external voting, in order to seek their opinions on the best approach to implement the ROPAA.
It was further noted that at the end of the committee's work, a technical team would be constituted to draft regulations for external voting, which will be eventually passed into a Constitutional Instrument (CI) by Parliament in addition to regulating the registration of voters and conduct of elections in foreign countries.
Meanwhile, majority of the Participants drawn from various sectors to part-take in the consultative meeting on the implementation of the Representation of the People's Amendment Act (ROPAA) have opposed the idea of its implementation.
Some participants questioned if the ROPAA could be implemented in the over 200 countries worldwide, or it is to be implemented in some selected countries, noting that could amount to disenfranchising Ghanaian citizens elsewhere.
The issue of who a Ghanaian was, and the modalities of knowing who a Ghanaian was and concerns of who supervises the election outside Ghana were also raised during the consultation.
Source:Fiilafmonline/Shawana Yussif